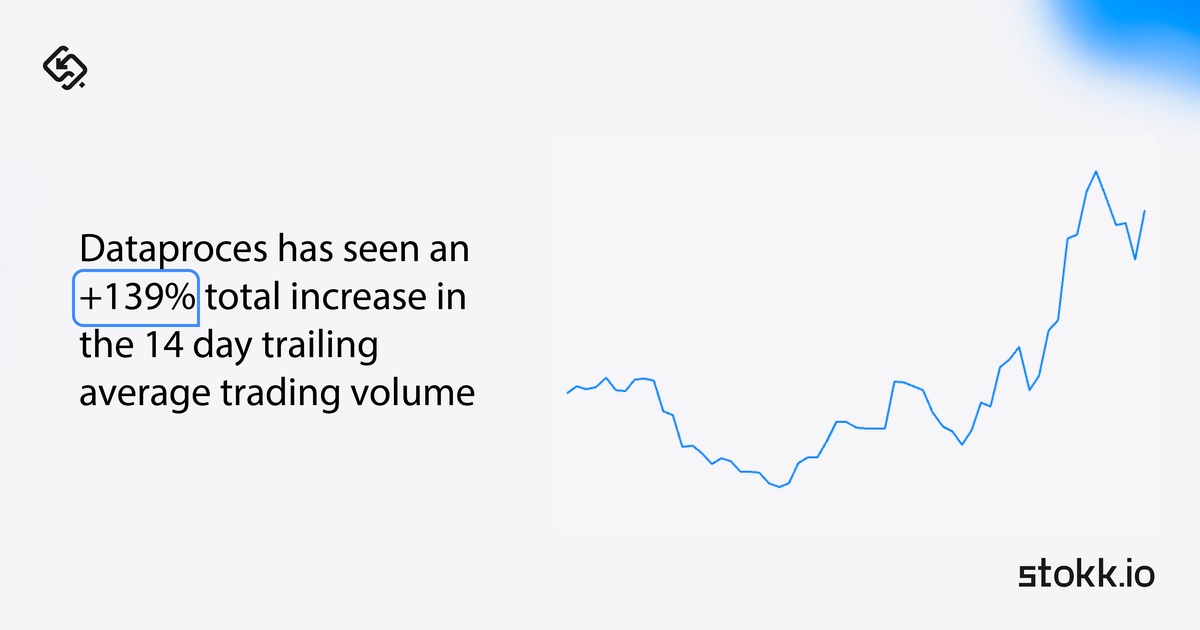 Dataproces has experienced a significant increase in trading volume based on numerous parameters and time periods after making a collaboration with Stokk.io
Dataproces and Stokk.io started a collaboration 6 months ago to create more awareness and show investors how much the company valued clear communication and full transparency. With Stokk.io the company established a clear communication channel and a professional investor event management setup and now we can share some of the results.
The Impact of an easy-to-use communicaiton channel and full transparency
In a mere six months, Dataproces witnessed a remarkable shift in investor engagement and trading volume.
Engaging 54 Unique Investors: Through their collaboration with Stokk.io, Dataproces successfully connected with 54 unique investors over investor events, significantly broadening their investor base and outreach.
A Debut in Earnings Calls: Dataproces had not ventured into the world of earnings calls before this partnership. However, with Stokk.io's guidance, they ventured into this crucial element of Investor Relations, resulting in heightened investor interactions and increased level of transparency following earnings releases.
Increased Investor Queries: During their most recent event, Dataproces collected nine investor questions, with an impressive eight being pre-submitted before the event. This proactive approach enabled Dataproces' CEO to prepare comprehensive answers, ensuring that investors' concerns were addressed in real-time and made easily avilable for everyone to see. Over the past 3 events the CEO has addressed nearly 30 investor inquiries.
550+ Event Views: Dataproces' event pages has garnered over 550 views, underscoring the importance of a comprehensive pre and post-event setup in maintaining sustained interest and reaching more investors. For a small listed company gaining more than 550 views of earnings calls and investor event pages can significantly increase reach.
Amplification on Social Media: Investors found celar value in the transparency of Dataproces' responses, leading them to share these insights on social media platforms, expanding the company's reach to potential investors.
Engagement, Full Transparency and Increased Reach turns into clear Trading Volume Improvements
The clear increase in investor engagement has also led to significant results measured in trading volume and trading activity making the share more liquid and increasing the interest and value for more investors.
24% Increase in Daily Trading Volume:
The collaboration also led to a notable 24% increase in average daily trading volume over the six-month period. This growth trajectory signifies growing investor trust and heightened interest in Dataproces.
139% Surge in 14-Day Average Trading Volume:
The latest Q4 event acted as a catalyst, driving an extraordinary 139% increase in the 14-day average trading volume. Such growth is pivotal for micro, small, and mid-cap companies, attracting private and institutional investors.
547% Surge in 10-Days Post Earnings Release Trading Volume:
Impressively, the 10-days average trading volume after each earnings call surged by a significant 547% since the first earnings call. We can clearly see an increase in trading volume over the past earnings calls.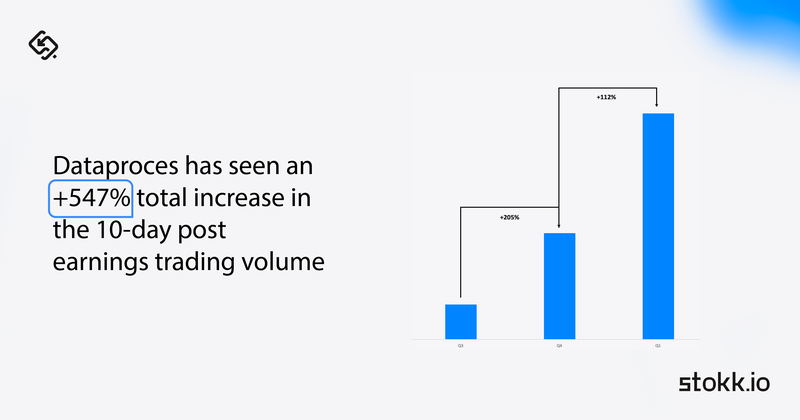 "In Dataproces, we have benefited greatly from the collaboration with Stokk.io. We have experienced a measurable increase in interest from the investors who use the opportunity to ask questions both before and during the presentations. We can also note that there is good interest in seeing the presentations after the live-event. All in all, Stokk.io's services contributes positively to developing our relationship with investors." - Michael Binderup, CEO, Dataproces Group A/S
We know that we can not take full credit of the significant results for Dataproces. We can provide Dataproces with a professional Investor Relations and Event Management tool so that they have the right tools for Investor Communication and creating engagement for an increased amount of investors. But communication also comes down down to WHAT is communicated and the company here has been very professional in their preparation of earnings calls and made sure to adress every question by investors with high interest.
The Strategy: How We Crated a Strategy for Investor Relations Success
So, what's the secret behind these remarkable outcomes? Stokk.io's approach centers around enhancing transparency, trust, and investor engagement:
Pre-Event Preparation: Dataproces embraced pre-submitting Q&A, allowing the CEO to prepare well-thought-out responses in advance. This approach not only tailored the presentation but also gauged investor interest through upvotes. A pre-event setup is important as around 94% of all questions submitted has been before the live event started.
Post-Event Accessibility: Making event content available post-event ensures that valuable insights remain accessible, catering to the needs of investors long after the event concludes. This is truly important as almost 90% of all views is after the end of the live event.
Transcripts for Transparency: Our meticulous transcription process further fosters trust by offering investors a clear and transparent record of the Q&A. Investors can now use the pre-event setup to post questions and in the post-event setup easily find answers to their questions saving them a lot of time and making information available in a single click.

The Future: Long-Term Benefits Await
The Dataproces case study serves as a testament to how a comprehensive investor relations strategy can deliver impressive results. With increased investor engagement, growing trading volume, and heightened transparency, Dataproces is better positioned than ever to navigate the world of Investor Relations and make sure to adress investor concerns and questions in a professional and easy-to-use setup for both the management team of the company and all investors, no matter their size.