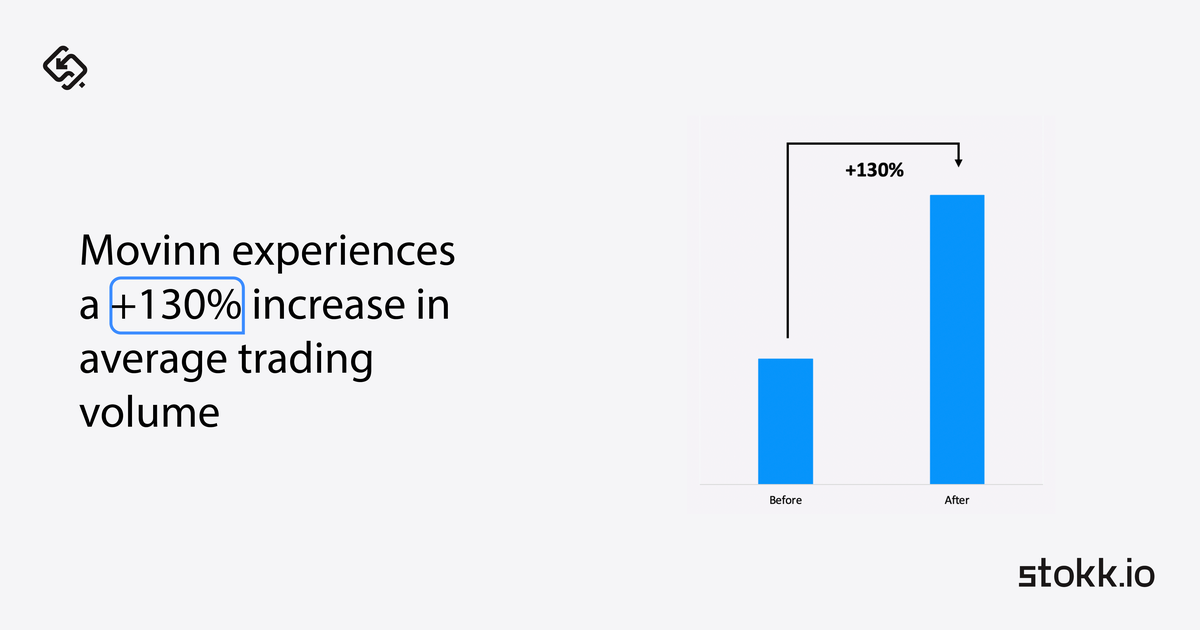 Movinn has experienced an increase in average trading volume following a 6 month period as well as a significant increase following each earnings release
Movinn has been using the solutions from Stokk.io in now 6 months. Following this period the company has experienced some interesting and significant results in their Investor Relations.
Movinn's Investor Relations Results
Increased keyword awareness: Movinn has clinched the #1 position for the new market expressed by the keyword "Furniture Rental." Furthermore, they have secured a top 5 position for the keyword "Corporate Housing" as their main operations. These keyword victories have firmly established Movinn as a dominant force in both the furniture rental and corporate housing sectors.
Significant Viewer Engagement: Investor engagement during Movinn's earnings call events has soared, surging by an impressive 120% compared to previous events. Increased eyes on earnigs calls is the first step towards increasing investorbase.
Pre-Event Investor Engagement: A significant shift occurred as every question addressed in earnings calls during 2023 waspre-submitted. This innovative approach empowered Movinn to provide meticulously prepared answers. It has also led to a substantial increase in the number of questions submitted by both current and potential investors, facilitating more effective communication.
Amplified Investor Outreach: Investors didn't just participate during the live events; they continued to engage with the content afterward. Answers provided during events were shared on social media platforms by investors, thereby expanding Movinn's reach and attracting prospective investors. This became possible through our comprehensive transcript service.
Surge in Trading Volume: The most astounding outcome is the significant increase in trading volume. Over a six-month period, Movinn experienced a staggering +130% increase in their average weekly trading volume. This increased liquidity is pivotal for attracting more significant and diverse investors.
Post-Earnings Impact: Delving deeper into trading volume changes, we observed increased investor awareness following earnings calls. The average volume 10 days after earnings releases surged by 78% during our collaboration period, compared to the average before our collaboration.
Increased investor base: Last but not least Movinn has increased its investorbase by around 3% in the period even though the period has been reflected by a tougher climate for the company.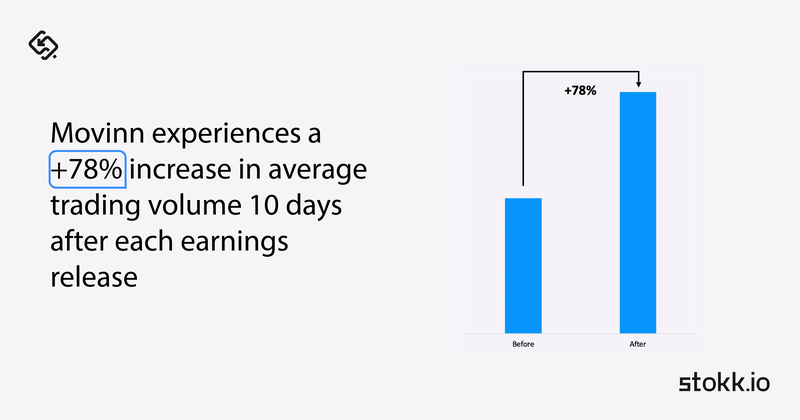 How Stokk.io helps Movinn creating convenient and engageable investor relations
Now that we have seen the results, the questions is how? Lets explore the strategy that we have used for Movinn:
Enhanced Investor Engagement with Q&A Solution:
We revolutionized the investor experience by introducing a user-friendly pre-submitting Q&A solution. This innovation allowed investors to submit their burning questions before the live event. Not only did it empower Movinn to deliver meticulously prepared and comprehensive answers, but it also sparked a surge in the quantity and quality of questions. This engaging and informative approach piqued investor curiosity, fostering a dynamic dialogue.
Streamlined Event Excellence:
Our expertise extended to managing every facet of Movinn's live events, ensuring a seamless experience for both investors and the company. By handling technical setups and call operations, we spared the company the time and effort, guaranteeing a professional online investor event devoid of errors or interruptions.
Amplifying post-event impact:
Post-event, we didn't stop at simply recording the content. We automated the process of making it accessible to investors at their convenience. What's more, our vast network enabled us to distribute these recordings and associated files across multiple platforms. This expansive reach extended Movinn's visibility far beyond its home market.
SEO and convenience through Transcripts:
Our commitment to enhancing accessibility continued with timestamped transcripts. These transcripts not only facilitated investors in navigating content, skimming information, and pinpointing specific keywords but also served as powerful SEO tools. After crafting and presenting the transcripts, we transformed them into machine-readable formats, integrating them seamlessly onto investor platforms. This strategic move not only heightened awareness but also bolstered keyword positions, ensuring Movinn's prominence in relevant searches.
"We've had more questions than we are used to, which is fantastic. It will allow everybody to get a better understanding for what we do and also maybe demystify some stuff. So thank you so much for that, it's been fantastic." - Patrick Blok, Managing Partner, Movinn (taken from Q4 earnings call transcript)
These features, combined with the commitment and vision of Movinn's team, played a pivotal role in achieving these remarkable results. While we recognize that market conditions and company performance also playes a significant part in the trading and stock changes, we see some interesting statistics showing a connection between our solutions and changes in trasing behaviour by investors. This shows a focus on full transparency and tools to increase investor engagement and convenience can turn into significant results in reach, trading volume and increased investor base.