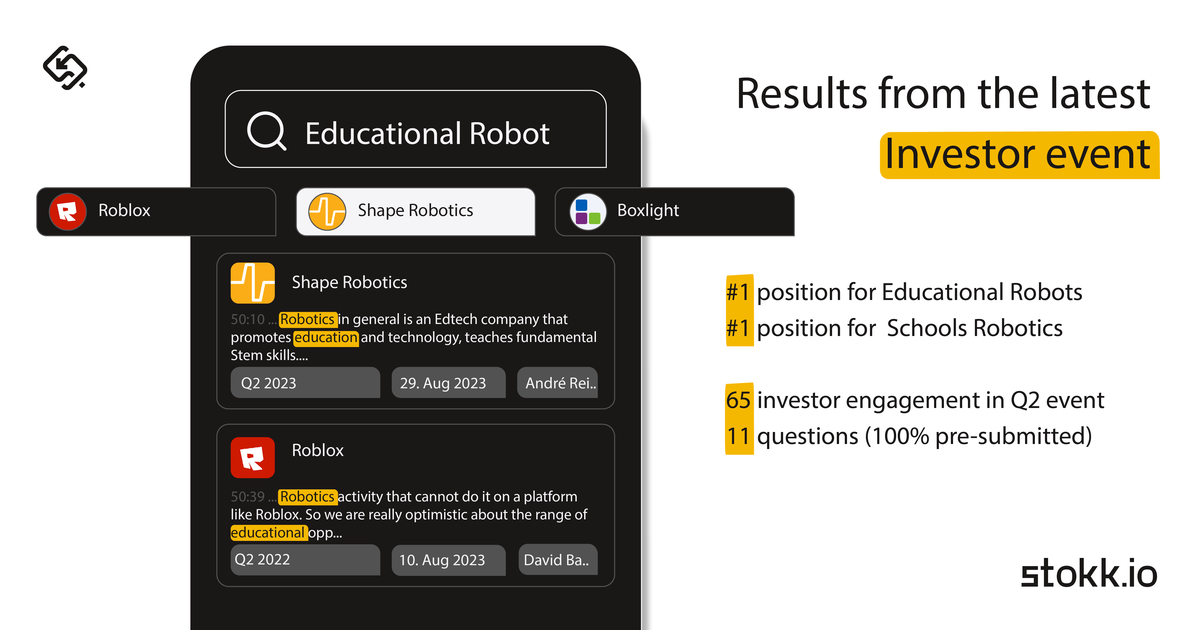 Shape Robotics has since its collaboration with Stokk.io witnessed an increase of 12% in number of investors on Nordnet showcasing the importance of exceptional Investor Relations and Financial performance.
In the fast-paced world of investor relations, staying ahead of the curve is essential for businesses looking to thrive. At Stokk.io we understand the significance of robust investor event management and how it can significantly impact a company's visibility and investor engagement. That's why we're thrilled to share the success story of our partnership with Shape Robotics and the remarkable results we've achieved in just 4 months.
A Full-Spectrum Investor Event Management Solution
Our collaboration with Shape Robotics began with a shared vision—to enhance their investor relations through a comprehensive approach. We provided Shape Robotics with a complete investor event management solution, seamlessly handling every aspect of their online events:
Interactive Q&A Solution: We introduced a pre-submitting Q&A solution that allowed investors to submit questions before the live event. This innovative feature enabled Shape Robotics to prepare thorough, well-informed answers, ensuring a seamless Q&A session.
Live Event Streaming: We managed the live streaming of their events, providing investors with real-time access to crucial information and letting the company focus on, what they do best, presenting the company and the financial results while we handled the technical process of the earnings calls.
Post-Event Recording and Distribution: We recorded the events and made them available for investors to access at their convenience. We also distributed these recordings and associated files across various platforms
Transcript and SEO Optimization: Post-event, we generated a timestamped transcript. This transcript served as a powerful SEO tool in investor relations, boosting the company's discoverability and visibility by targeting relevant keywords. By integrating these transcripts to Investor relations platforms as Quartr the transcripts begin to work as an SEO optimizing tool.
"We highly endorse Stokk.io and their webcast services for investor relations. Their well-prepared and insightful system gives valuable interactions with investors. Furthermore, their platform provides an excellent opportunity for investors to submit questions when they whave time and for others to access answers, significantly enhancing the overall investor experience. This partnership not only benefits our investor communication at Shape Robotics but also enables presenters to better prepare and offer more comprehensive responses." - André Fehrn, CEO, Shape Robotics
Tangible Results from a succesfull collaboration
The impact of our collaboration with Shape Robotics has been nothing short of extraordinary:
Keyword Dominance: In just 4 months, Shape Robotics achieved the number one position for keywords such as "Educational Robots" and "School Robotics". This newfound keyword dominance has significantly bolstered their online presence and discoverability for all investors interested in these EdTech keywords.
Viewer Engagement: Compared to previous earnings call events, the number of viewers for Shape Robotics' events has surged by over 150% this is a combination of a streamlined event process and the ability to submit questions pre-event and find answers post-event. The live event we recently hosted garnered a staggering 65 investor engagements.
Preparedness and Engagement: Thanks to our pre-submitting Q&A solution, Shape Robotics collected 11 questions and even more question upvotes, all of which were submitted before the actual event. This not only allowed them to prepare in-depth answers but also showcased their commitment to investor engagement and attracted more investors to watch the event live or through the recording.
Convinence: Convinence has been a key focus area, as saving investors time can help increase engagement level and actual reach. With Q&A-mapping, we with mapped all the provided answers to each question. making it possible for investors to find the answers they need in 1 single click.
Fueling Investor Growth and increasing liquidity
Before our collaboration with Shape Robotics, the company experienced a slight dip in the number of investors, with a -1% decrease over the preceding 4-5 months. However, what followed is a testament to the power of strategic investor relations initiatives. Just four months after our partnership began, Shape Robotics witnessed a remarkable turnaround, experiencing an impressive 12% increase in the number of investors—a substantial addition of 270 investors to their fold.
An increase in the investorbase has not been the only traceable outcome of adding the Stokk.io solution to the Investor Relations efforts. Shape Robotics has also seen an increase in trading volume and liquidity in the shares. Shape Robotics is today using the Stokk.io full event management suite during earnings calls. The following 10 days after an earnings release and an event with the Stokk.io setup the average daily trading volume has increased by +147%.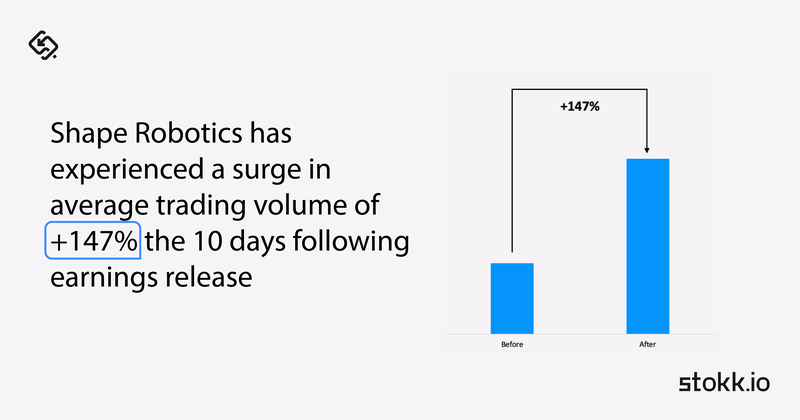 While we can't claim sole credit for this significant growth, as it also reflects Shape Robotics' outstanding financial and strategic performance, it highlights the synergy between a transparent, proactive investor relations approach and a company's overall success. By focusing on transparency and engaging investor relations initiatives alongside exceptional performance, Shape Robotics has demonstrated that fostering investor trust and delivering on promises can yield substantial rewards.
Unlocking Long-Term Benefits
Our collaboration with Shape Robotics underscores the enduring benefits of a well-executed investor event management strategy. It extends a company's reach, enhances its visibility, and ensures that critical content remains accessible to investors when they need it most. The combination of pre-submitting Q&A and upvotes enables companies to tailor presentations based on investor interest, creating a more engaging and impactful experience.
In conclusion, our partnership with Shape Robotics is a testament to the power of effective investor event management. It's a journey of continuous improvement, enhanced investor relations, and sustainable long-term growth. As we move forward, we remain dedicated to delivering innovative solutions that empower companies to thrive in the ever-evolving landscape of investor relations.
If you're ready to take your investor relations to the next level, we invite you to explore our comprehensive event management solutions. Together, we can write the success story of your company's future.